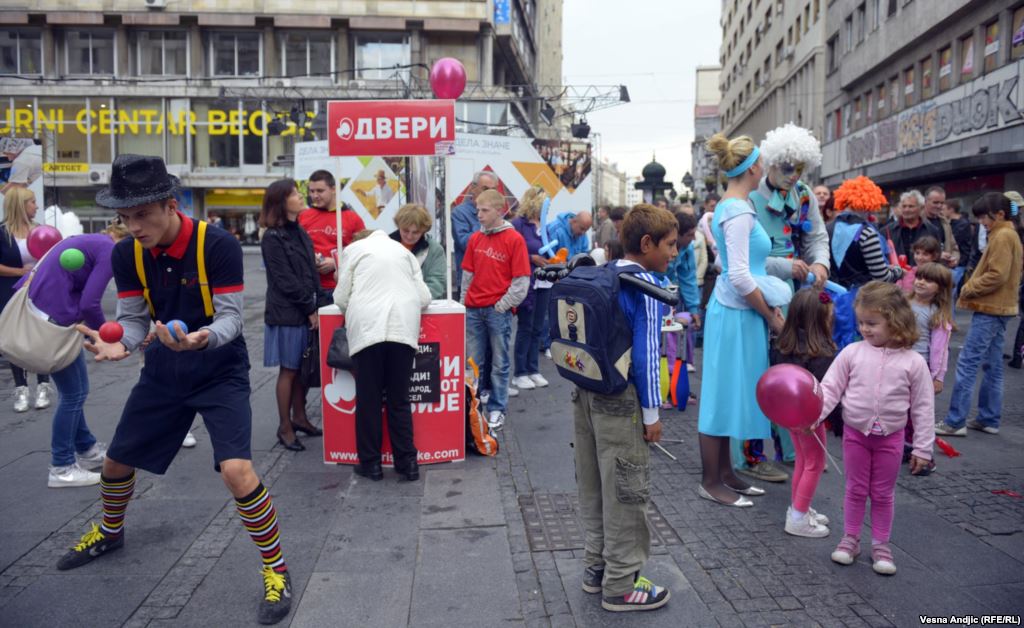 Whether you like it or not, support it or not, celebrate it or not, can't wait for it to come or can't wait for it to pass, Valentine's Day does bring up warm and fuzzy feelings in most people, regardless of their dating status, with all those heart-shaped chocolates, greeting cards, flustered men carrying bouquets of flowers and 'I love you' balloons while hurrying to get to their better halves and show them that long-awaited surprise. Valentine's Day is a holiday with a very long tradition since, believe it or not, it dates back to the Medieval Ages when people honoured Saint Valentine, the patron saint of love and affianced couples. It is also the perfect excuse for indulging in great food and vast quantities of chocolate, or to finally come clean about that guy / girl you've had a crush on for a long time, or maybe for taking your partner on an adventure you've been planning for a long time.
Coming to Belgrade for Valentine's Day might not be the adrenaline fuelled adventure you are looking for, but Belgrade does have plenty to offer on this romantic holiday.
First and foremost, you will have to book accommodation beforehand. Although you might think that a hotel room or a suite is perfect for the two of you for Valentine's, we beg to differ. We have something really romantic, private and intimate for you – a beautiful apartment in the very centre of Belgrade. Get in touch with us and we'll do our utmost to find you a quiet, comfortable apartment, with a beautiful view, big enough for two. And we have a wide selection to choose from, whatever your fancy.
The typical and almost inevitable thing to do on Valentine's Day would be to book a nice, cosy restaurant, and have a candlelit dinner with your significant other. Yes, this is a cliché, but a really sumptuous and highly enjoyable one. Did you know that Belgrade has nearly 400 restaurants to choose from – from the ones serving typical delicious Serbian food to the French, Italian, Indian, Lebanese, Thai, Japanese, Chinese, Spanish, Greek, vegan, vegetarian, fusion and many, many others? Think about your personal preference, the food that is typically associated with Valentine's Day, and pick the restaurant accordingly. With so many restaurants to choose from, this link might be useful:  http://www.tripadvisor.com/Restaurants-g294472-Belgrade.html .  Quite a few of them are a walking distance from your apartment (should you choose to book an apartment with Belgrade Apartments, that is).
After you had a nice dinner, and we trust you will have a delectable one, why not take a walk along the shores of the Belgrade rivers – the Sava and the Danube? The views and sounds of Belgrade at night are really spectacular, a leisurely stroll will further relax you, and you can have a coffee, glass of champagne or cocktail at one of the many bars and restaurants on water.
Another thing that the two of you can do is go for a river cruise which will give you an opportunity to see Belgrade from a totally different angle, free of stress, noise, and hustle & bustle of the city. Most of the boats have open bar, live music, karaoke, and serve dinner / drinks.
Serbian and regional pop singers usually hold concerts in venues like Kombank Arena and Sava Centre on Valentine's Day which have become hugely popular, particularly with the ladies. Although, you may not understand the language, you know what they say – "music is the universal language". We are confident that you will enjoy romantic notes sung by the best Serbian vocalists. If you are not too fond of pop music, and prefer classical music or opera, Belgrade theatres usually give huge discounts on tickets on Valentine's Day. For instance, the National Theatre in Belgrade slashed the price of tickets for Verdi's opera 'Rigoletto' by 50% last year, while the Ethnographic Museum held a series of 16th, 17th and 18th century chamber music concerts on Valentine's Day.
The biggest cinema chain in Belgrade – 'Tuckwood' – celebrates its anniversary on Valentine's Day and each year they have a few surprises in store for cinemagoers on this day. Please note that, apart from a few animated features, movies in Serbia are subtitled and not dubbed. Also worth remembering is that your apartment is a short distance from the nearest Tuckwood cinema in Kneza Milosa Street.
Why not have a great massage with your loved one? Belgrade has some wonderful spa and wellness centres where you can enjoy a variety of relaxing and invigorating treatments – traditional Thai and Fijian massages, Moroccan, Brazilian, Hawaiian and Indian body treatments, detox treatments, anti-stress massage, hot stone massage, reflexology, Ayurvedic treatments, Finnish sauna….
One of the biggest and best shopping malls in Belgrade – Ušće Shopping Centre – organizes special events on Valentine's days. At the mall, you can go indoor free climbing, cart racing, or participate in games like "The Rythm of the Heart", "The Wheel of Fortune", and "The Wall of Love".
Or how about keeping it simple and light, and have a picnic at one of many Belgrade parks – Pionirski Park (again, a walking distance from your apartment), Tašmajdan, University Park, and Karadjordje Park?
Whatever you do, we wish you a supremely romantic and unforgettable Valentine's Day in Belgrade.